(Kingston, Ontario, Canada) – Royal Kingston Curling Club is pleased to host the 2023 Two-Person Stick Curling Provincial Championship February 10 – 12 on behalf of the Ontario Curling Association (CurlON). Representing the host club are the teams of Tony Bush and Jim Rayner and Ron Cameron and Bob Helliar.
Ron Scheckenberger who won the provincial championship in 2019 and 2020 will be back to defend his title, this time with teammate Rick Thurston, both from the Dundas Granite Curling Club.
Teams are vying for the Championship banner and a prize pool of $1,000.
The games get underway on Friday, February 10 at 4 p.m. at the Royal Kingston Curling Club located at 130 Days Road. The opening ceremony is at 5:30 p.m., when the curlers will be piped onto the ice and the ceremonial first rock delivered.
Stick curling is a fast-paced game in which curlers deliver the rock with the aid of a delivery stick. It requires the same degree of precision, strategy and shot-making as traditional curling, but without having to slide or sweep the rock end-to-end.
The competition is unique in that it is open to everyone 18 years of age and older. Teams may be formed of any CurlON member athlete (not necessarily from same club) and of any gender combination.
The winners of the provincial championship will earn a spot in the 2023 Canadian Stick Curling Championships taking place in Nanaimo, BC, March 30 – April 2.
The motto of the Canadian Stick Curling Association is 'Love the game again . . . 6 Rocks, 6 Ends & Making Friends!'
Stick curling is enjoyed by people of all ages and abilities and has been embraced particularly by people with joint or mobility issues, wheelchair curlers, Special Olympics athletes, brand new curlers and those who have been curling for decades.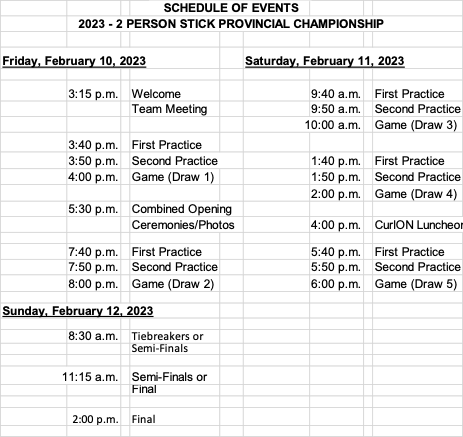 Do you like this post?