News: 'Everything counts': Team ETC voted next AMS executives

As voting closed Wednesday, the AMS election saw an 11.5 per cent voter turnout.  
 
  "We want to start by saying thank you to all students who voted in this election. Whether you voted yes, no, or abstained, we believe the voting process is an essential hallmark of a democratic election,"
     
      —Team ETC

"For those who put their vote of confidence in us we also say thank you. We are beyond excited and passionate about this opportunity and are hoping to continue working with students for consistent communication and change." Read the full story here.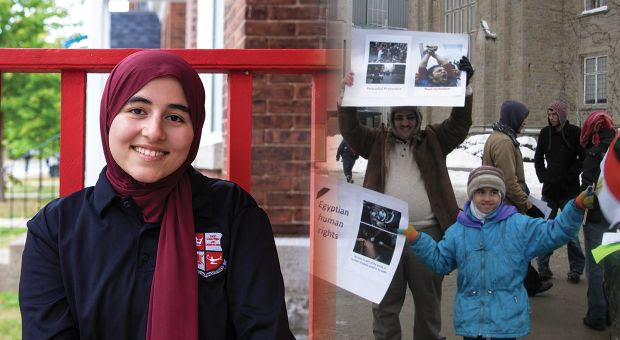 Hussein considers her perspective an asset and her position a privilege. (Photo Illustration by: Dharmayu Desai)
Feature

: 

'Anyone can participate in advocacy': Queen's Student Activists, Part One
Now a passionate and outspoken member of the student community, Yara Hussein, ArtSci '23, almost didn't come to Queen's.
"Looking at what Queen's is like and the history of it—specifically, the history of the medical school and the experiences of many racialized and marginalized students, I was not sure if it was the place where I would thrive and find my people,"
   —Yara Hussein, ArtSci '23
Fortunately, after receiving scholarships from the university she couldn't pass up, Hussein became a Gael and has since found a strong, though sometimes hidden, community. In her time at Queen's, she's already worked with the Queen's Student Diversity Project (QSDP), the Student Experience Office (SEO), and the Arts and Science Undergraduate Society (ASUS). Read the full story here.
—Aysha Tabassum, Editor in Chief
Arts: 

Brianne Franklin appointed Tett Centre director
The Tett Centre for Creativity and Learning has appointed Brianne Franklin, ArtSci '17, as their director. 
 
After her undergraduate studies, Franklin, completed her Masters of Arts Leadership in 2020 at the Dan School of Drama and Music. 
Read the full story here.
—Ben Wrixon, Arts Editor
Sports
:

 

Leslie Dal Cin announces retirement
Executive Director of Athletics and Recreation, Leslie Dal Cin, has announced her intention to retire this spring.

According to a Jan. 27 press release, Dal Cin will step down from her post on May 31, coinciding with the end of the winter term. Her career in sports administration has spanned nearly 36 years and included positions at numerous Ontario universities, as well as the International Basketball Federation, the Canadian Olympic Committee, the Pan Am games, and Canada Basketball. Read the full story here. 

—Angus Merry, Sports Editor
Lifestyle
:

 

Girlbossing too close to the sun
Sophia Amoruso, CEO and founder of NastyGal, coined the term 'girlboss' in 2014. It was defined by corporate success and a righteous strive for gender equality. Amoruso consequently released #Girlboss, her novel commemorating her journey from an eBay retail shop to corporate success. 
Read the full story here. 
—Rida Chaudhry, Assistant News Editor
---
We're entering a new era of feminism. (Photo Illustration by: Dharmayu Desai)
Catch-up on Tuesday's campus news: 
News: Student Advocacy Summit hosted by AMS
On Jan. 29, the Student Advocacy Summit was held for the first time in years. Various branches of the AMS collaborated to hold the event, which aimed to facilitate engagement between the student government and the Queen's community. Read the full story here. 
—Rida Chaudhry, Assistant News Editor
Do you like this post?